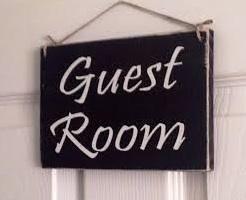 At the present moment we only have accommodations in the form of guest rooms in the homes of residents which may or may not include private bathroom.  Prices range from $20-$40 a night and include breakfast, extra meals are available for an additional cost.
In the summer months we have very simple cabins available.  No electricity, no running water, no indoor bathrooms, communal outhouse and outdoor solar heated shower house.  Bedding and Linens are supplied as well as drinking water and a battery operated lamp and or flashlights. Prices range 
For more info or to enquiry about the price please contact us using the form on the right >>
Nearby Hotels in Cache Creek (about 20 minutes from Saranagati)
Sandman Inn, Sunset Motel, and Sage Hills Motel  www.booking.com
Directions to Saranagati
From Vancouver: Trans-Canada Hwy and BC-1 E/Trans-Canada Hwy (about 4 hours) http://goo.gl/maps/qcHNh
The first Venables Valley Road  Look for the small sign and catlle guard, shortly before taking a sharp left.  The entrance is across from a gravel factory
From Kelowna: BC-97C and Nicola Ave/BC-8 W  about 3 hours)  same as above when you turn north at Spences Brides (http://goo.gl/maps/wyBYD
From Kamloops: BC-97 N and Trans-Canada Hwy (about 1 & 1/2 hours) http://goo.gl/maps/5wCXH
Coming from the North, there are 2 Venables Valley Roads off the highway:
1. first road entrance to Venables Valley/Saranagati on your right about 20 km past Cache Creek
2. partially paved Venables Valley Road entrance to Saranagati on your right, a few kilometers past the first road
Please Note: While the mailing address of Saranagati Village shows as located in Ashcroft BC, the street address on Venables Valley Road shows as located in Spences Bridge, BC on Google Maps.