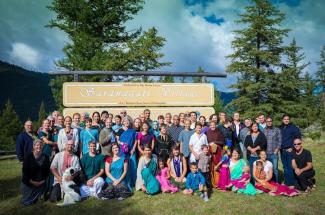 Saranagati Village community is located 4 hours north east of Vancouver in Venables Valley.   Today we have about 25 families who make Saranagati their home.  We have a small simple Temple "Sri Sri Gaura Nitai Mandir" where we have regular programs including Sunday Feast and Major Vaisnava Festivals.  We also have Govardhana Goshala for our cows.  Govardhana Academy, our local school for Vaisnava students is a K-12 Distance Learning School with regular academics and a regular spiritual morning program.  
​Bhakti Yoga
The residents of ​Saranagati ​relate to God through loving devotional service.  They practice bhakti yoga – the yoga of love and devotion.  They utilize their abilities, intelligence, talents in service to the Supreme Lord, and in this way they are able to serve each other and the needs of a ​spiritual​ community.
The spiritual vision held by the residents is the goal of understanding our relationship with the Supreme Personality of Godhead.  When we understand this, we align all our activities to achieving this goal.  The residents understand that their primary identity is as servant of the Supreme Lord.  This encompasses service to all other individuals, both within and outside of the community.